DYNAMIC BEAUTY
The crisp-cut exterior design, drawing on the sporty VISION RS study, features sculptural shapes, dynamic elements and a spectacular interplay of light and shadow
FUTURE CLASSIC
The interior has taken its cue from the dynamic exterior design. It combines the ergonomics typical for ŠKODAs and an emotionally charged design brimming with graceful curves. You will be surrounded by soft materials, a largest-in-class display and ample space in all directions.
THE FINEST ENGINEERING
The SCALA is built on a state-of-the-art MQB platform, featuring advanced design, the latest powertrains and a panoply of the advanced driver-assistance systems commonplace in larger models.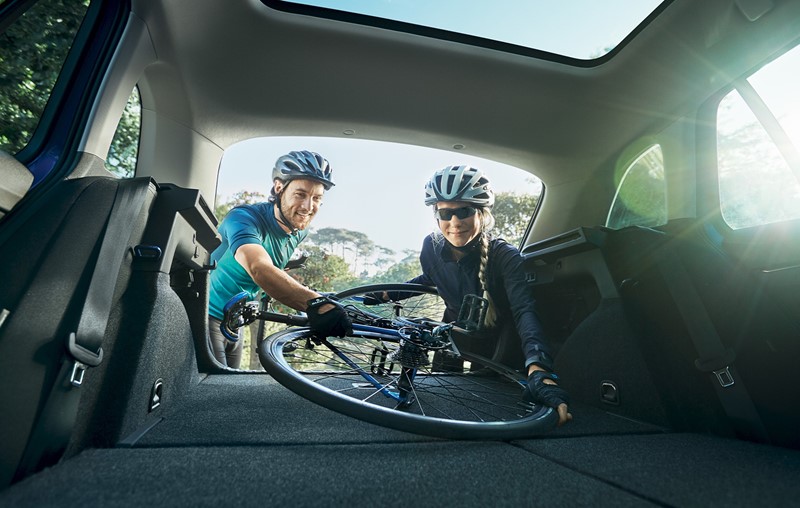 A NEW BENCHMARK IN ROOMINESS
The SCALA has the versatility and spaciousness to make it ready for any situation in life. You'll easily cope with anything the future has in store for you.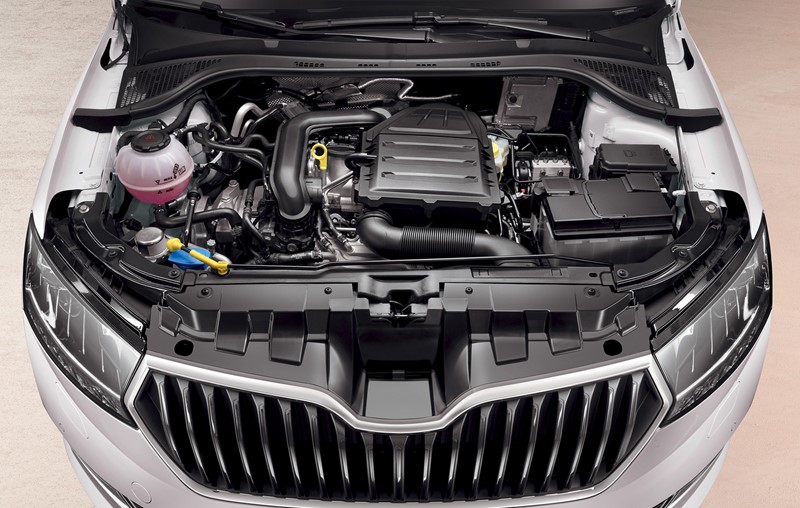 INGENIOUS IN EVERY WHICH WAY
Keeping to the ŠKODA tradition, the SCALA is teeming with unique, ingenious Simply Clever solutions that are intended to make your life easier every day.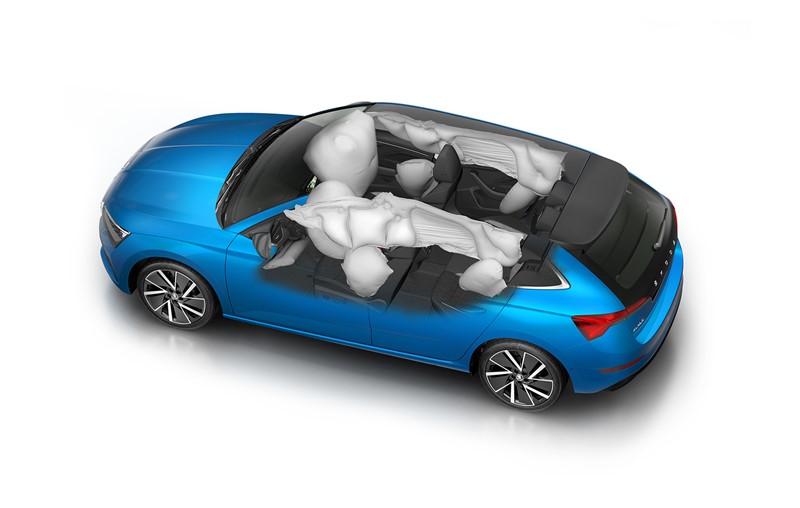 A SAFE BET
SCALA's attention to safety has also been inspired by higher-end cars. The car comes complete with a plethora of advanced driver assist systems, up to 9 airbags, and eCall. The maximum 5-star rating underlines top safety level for the ŠKODA SCALA.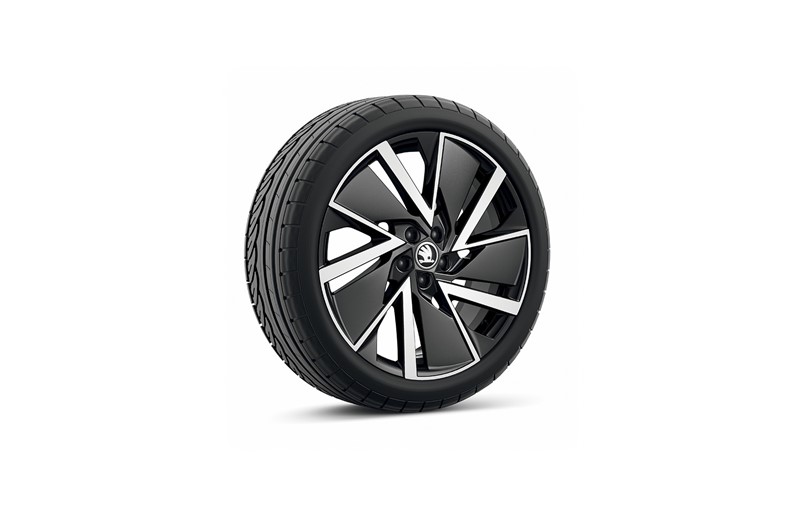 A FUSION OF INNOVATION AND STYLE
The wide range of 16- to 18-inch alloy wheels is complemented by innovative Aero designs, which have been optimised to achieve minimum drag.
CONNECTIVITY
Stay connected with our top of the range infotainment system featuring SmartLink, Apple Carplay and Android Auto.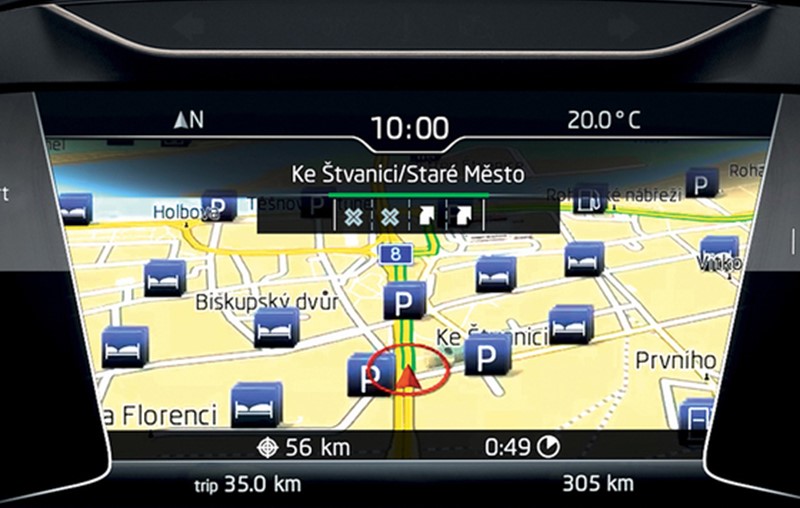 Virtual Cockpit (Optional)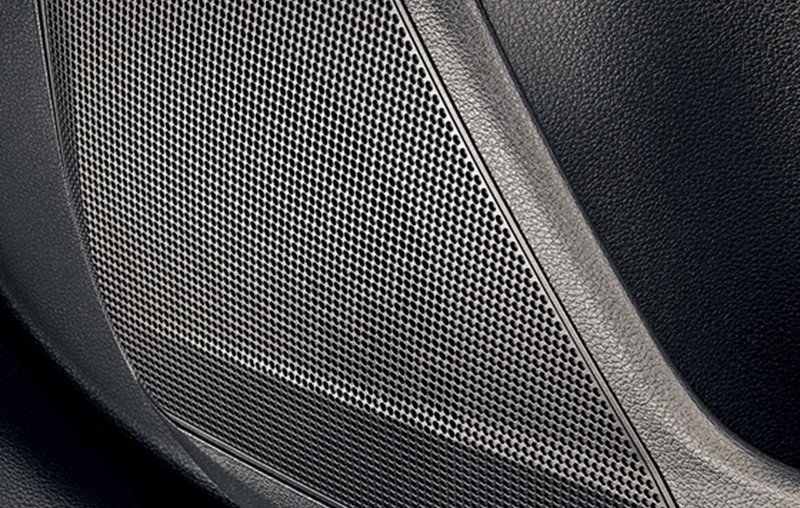 ŠKODA Sound System (Optional)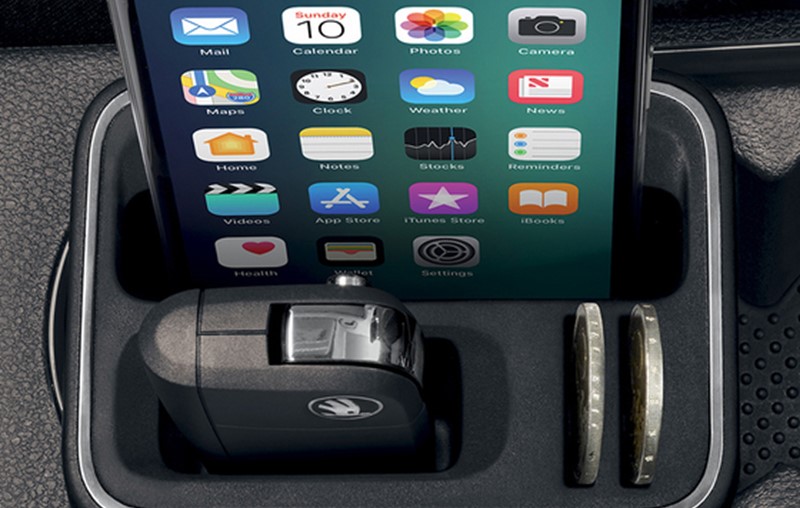 Multimedia holder
PRICE
Maximum Retail Price

$29,990
TECHNICAL DATA
Fuel consumption L/100km (Combined)

5.3
CO2 emissions g/km (Combined)*

119
Power Output - kW @ rpm

85 @ 5000 - 5500
Torque - Nm @rpm

200 @ 2000 - 3500
Drive train

Two Wheel Drive
Acceleration 0-100 km/h (sec)

9.8
Braked Trailer mass @ 12% (kg)

1200
Vertical down ball load (kg)

75
Warranty and Service
5 years mechanical warranty or up to 150,000km

Yes
Service Intervals every 1 year or 15,000km

Yes
ŠKODA Scheduled Service Plan 3 Years or up to 45,000k

$1,000
ŠKODA Scheduled Service Plan 5 Years or up to 75,000km

$1,900
Safety & Assistance
Euro NCAP Safety Rating

5 Star across the Scala Range
Driver/Passenger Front Airbags. Driver knee, Curtain & Front side airbags

yes
Central locking system - keyless engine start/stop button

yes
'KESSY' keyless entry and door locking

$400
Driving mode selection

$250
Driving mode selection with adaptable (-15mm) suspension

$950
Driver Fatigue Alert/Monitor to support safer driving practices

Yes
Cruise control system + "SPEEDLIMITER"

Yes
Adaptive Cruise control system + "SPEEDLIMITER"

$900
Lane Assist and Front Assist with City Emergency Brake as standard

Yes
Side assit with Rear Traffic Alert

$900
Exterior Specification
Entry LED Headlights with LED daytime/low beam with fog lights

yes
Full Bi-LED Adaptive Headlights inc corner lights with fog lights

$2,250
Full LED Tail-lights animated Turn Signal

Yes
Rain & Light Sensor, Automatic headlights lights and wipers

Yes
"SUNSET" tint for side & rear windows from B pillar back

$350
Exterior mirrors, power-adjustable/ heated

yes
Exterior mirrors, auto-dimming, power-folding/adjustable/heated

$450
Rear parking sensors with reversing camera

yes
Front parking sensors

$700
Chrome detailing around windows

$350
Long rear window in black

Yes
Interior Specification
Decorative inserts Grain Black + Interior bars and air vents in Black Gloss

Yes
Decorative inserts Silver Haptic + Interior bars and air vents in Black Gloss

No
Decorative inserts Black Dots + Interior Chrome and Amb. lighting in red

No
Leather round multifunction steering wheel

Yes
Leather sports multifunction steering wheel with aluminium pedals

No
Manual air conditioning

Yes
'CLIMATRONIC' Automatic Glass front Dual Zone air conditioning

$1,200
Centre armrest in front "Jumbo Box"

Yes
Rear split folding backrest with centre armrest

$255
Mounting fixture in luggage compartment with nets and cargo elements

Yes
Luggage compartment cover with luggage net

Yes
Upholstery
Ambition Black fabric interior

Yes
Dynamic Sport seats in upholstery Fabric/Suedia with black ceiling

No
Manual height and lumbar support adjustment in front seats

Yes
Multimedia
2x USB Type-C Front and 2x USB Type-C Rear

Yes
8 Speakers sound system with sound pre-sets and Bluetooth

Yes
Smartlink incl. Android Auto and Apple Carplay

Yes
'SWING' 6.5" colour touchscreen infotainment system

Yes
'BOLERO' 8" colour touchscreen infotainment system

$550
Alloy Wheels
17" 'STRATOS' Alloys

$750
PRICE
Maximum Retail Price

$34,990
TECHNICAL DATA
Fuel consumption L/100km (Combined)

5.7
CO2 emissions g/km (Combined)*

129
Power Output - kW @ rpm

110 @ 5000 - 6000
Torque - Nm @rpm

250 @ 1500 - 3500
Drive train

Two Wheel Drive
Acceleration 0-100 km/h (sec)

8.2
Braked Trailer mass @ 12% (kg)

1250
Vertical down ball load (kg)

75
Warranty and Service
5 years mechanical warranty or up to 150,000km

Yes
Service Intervals every 1 year or 15,000km

Yes
ŠKODA Scheduled Service Plan 3 Years or up to 45,000k

$1,000
ŠKODA Scheduled Service Plan 5 Years or up to 75,000km

$1,900
Safety & Assistance
Euro NCAP Safety Rating

5 Star across the Scala Range
Driver/Passenger Front Airbags. Driver knee, Curtain & Front side airbags

Yes
Central locking system - keyless engine start/stop button

Yes
'KESSY' keyless entry and door locking

$400
Driving mode selection

Yes
Driving mode selection with adaptable (-15mm) suspension

$750
Driver Fatigue Alert/Monitor to support safer driving practices

Yes
Cruise control system + "SPEEDLIMITER"

Yes
Adaptive Cruise control system + "SPEEDLIMITER"

$900
Lane Assist and Front Assist with City Emergency Brake as standard

Yes
Side assit with Rear Traffic Alert

$900
Exterior Specification
Entry LED Headlights with LED daytime/low beam with fog lights

Yes
Full Bi-LED Adaptive Headlights inc corner lights with fog lights

$2,250
Full LED Tail-lights animated Turn Signal

Yes
Rain & Light Sensor, Automatic headlights lights and wipers

Yes
"SUNSET" tint for side & rear windows from B pillar back

$350
Exterior mirrors, power-adjustable/ heated

Yes
Exterior mirrors, auto-dimming, power-folding/adjustable/heated

$450
Rear parking sensors with reversing camera

Yes
Front parking sensors

$700
Chrome detailing around windows

$350
Long rear window in black

Yes
Interior Specification
Decorative inserts Grain Black + Interior bars and air vents in Black Gloss

No
Decorative inserts Silver Haptic + Interior bars and air vents in Black Gloss

yes
Decorative inserts Black Dots + Interior Chrome and Amb. lighting in red

No
Leather round multifunction steering wheel

No
Leather sports multifunction steering wheel with aluminium pedals

Yes
Manual air conditioning

Yes
'CLIMATRONIC' Automatic Glass front Dual Zone air conditioning

$1,200
Centre armrest in front "Jumbo Box"

Yes
Rear split folding backrest with centre armrest

$255
Mounting fixture in luggage compartment with nets and cargo elements

Yes
Luggage compartment cover with luggage net

Yes
Upholstery
Ambition Black fabric interior

No
Dynamic Sport seats in upholstery Fabric/Suedia with black ceiling

Yes
Manual height and lumbar support adjustment in front seats

Yes
Multimedia
2x USB Type-C Front and 2x USB Type-C Rear

Yes
8 Speakers sound system with sound pre-sets and Bluetooth

Yes
Smartlink incl. Android Auto and Apple Carplay

Yes
'SWING' 6.5" colour touchscreen infotainment system

Yes
'BOLERO' 8" colour touchscreen infotainment system

$550
PRICE
Maximum Retail Price

$38,990
TECHNICAL DATA
Fuel consumption L/100km (Combined)

5.7
CO2 emissions g/km (Combined)*

129
Power Output - kW @ rpm

110 @ 5000 - 6000
Torque - Nm @rpm

250 @ 1500 - 3500
Drive train

Two Wheel Drive
Acceleration 0-100 km/h (sec)

8.2
Braked Trailer mass @ 12% (kg)

1250
Vertical down ball load (kg)

75
Warranty and Service
5 years mechanical warranty or up to 150,000km

yes
Service Intervals every 1 year or 15,000km

yes
ŠKODA Scheduled Service Plan 3 Years or up to 45,000k

$1,000
ŠKODA Scheduled Service Plan 5 Years or up to 75,000km

$1,900
Safety & Assistance
Euro NCAP Safety Rating

Yes
Driver/Passenger Front Airbags. Driver knee, Curtain & Front side airbags

Yes
Central locking system - keyless engine start/stop button

Yes
'KESSY' keyless entry and door locking

Yes
Driving mode selection

Yes
Driving mode selection with adaptable (-15mm) suspension

Yes
Driver Fatigue Alert/Monitor to support safer driving practices

Yes
Cruise control system + "SPEEDLIMITER"

No
Adaptive Cruise control system + "SPEEDLIMITER"

Yes
Lane Assist and Front Assist with City Emergency Brake as standard

Yes
Side assit with Rear Traffic Alert

$900
Exterior Specification
Entry LED Headlights with LED daytime/low beam with fog lights

No
Full Bi-LED Adaptive Headlights inc corner lights with fog lights

Yes
Full LED Tail-lights animated Turn Signal

Yes
Rain & Light Sensor, Automatic headlights lights and wipers

Yes
"SUNSET" tint for side & rear windows from B pillar back

Yes
Exterior mirrors, power-adjustable/ heated

No
Exterior mirrors, auto-dimming, power-folding/adjustable/heated

Yes
Rear parking sensors with reversing camera

No
Front parking sensors

Yes
Chrome detailing around windows

Yes
Long rear window in black

Yes
Interior Specification
Decorative inserts Grain Black + Interior bars and air vents in Black Gloss

No
Decorative inserts Silver Haptic + Interior bars and air vents in Black Gloss

No
Decorative inserts Black Dots + Interior Chrome and Amb. lighting in red

Yes
Leather round multifunction steering wheel

No
Leather sports multifunction steering wheel with aluminium pedals

Yes
Manual air conditioning

No
'CLIMATRONIC' Automatic Glass front Dual Zone air conditioning

Yes
Centre armrest in front "Jumbo Box"

Yes
Rear split folding backrest with centre armrest

Yes
Mounting fixture in luggage compartment with nets and cargo elements

Yes
Luggage compartment cover with luggage net

Yes
Upholstery
Ambition Black fabric interior

No
Dynamic Sport seats in upholstery Fabric/Suedia with black ceiling

Yes
Manual height and lumbar support adjustment in front seats

Yes
Multimedia
2x USB Type-C Front and 2x USB Type-C Rear

yes
8 Speakers sound system with sound pre-sets and Bluetooth

Yes
Smartlink incl. Android Auto and Apple Carplay

Yes
'SWING' 6.5" colour touchscreen infotainment system

No
'BOLERO' 8" colour touchscreen infotainment system

Yes
Talk to a SKODA specialist