DYNAMIC BEAUTY
The new ŠKODA Karoq is designed around what matters to you, whether you need to pop to the gym or explore the great outdoors for the weekend. It's a spacious mid-sized SUV with class-leading technology.
Powerful design, turbocharged engines, state-of-the-art assistance systems and innovative connectivity solutions make the Karoq your perfect partner for all of lifes little adventures. The emotive and dynamic design with numerous crystalline elements characterises ŠKODA's new SUV design language.
As a true ŠKODA, the ŠKODA Karoq offers exceptional interior space, new driver-assistance systems and full LED headlights.
YOUR CHANCE TO SHINE
Centuries of Bohemian artistry has inspired the ŠKODA Karoq's exterior design. Harmonious proportions, clean-cut lines, bold contours and crystalline features that draw on the history of Czech crystal- glass art, all combine to create a design language that places a focus on precision and clarity.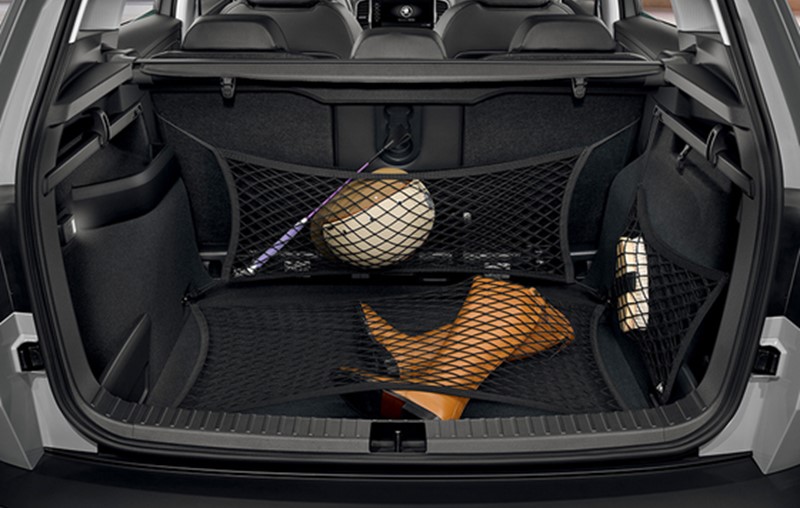 YOUR LIFESPACE
The Karoq has enough room for you, for your family and your luggage, for your friends, hobbies and sports activities, for your work, travels and relaxation - there is enough space for you and your whole life.

SAFETY WITHOUT COMPROMISE
The ŠKODA Karoq introduces a range of safety features and assists that will make you feel secure in any situation. The maximum 5-star rating underline top safety level for the ŠKODA Karoq.
ŠKODA is on a roll, and the Karoq is proof that the Czech brand knows exactly what it's doing in the field of family SUVs
CONNECTION ENABLED
Whether you want to select and listen to music on your smartphone or receive turn-by-turn directions, all of it is mirrored on the central display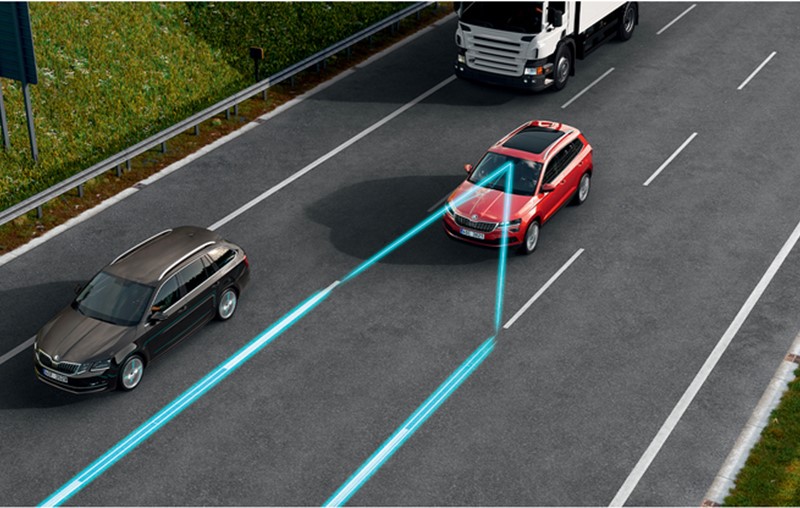 SAFETY ASSISTS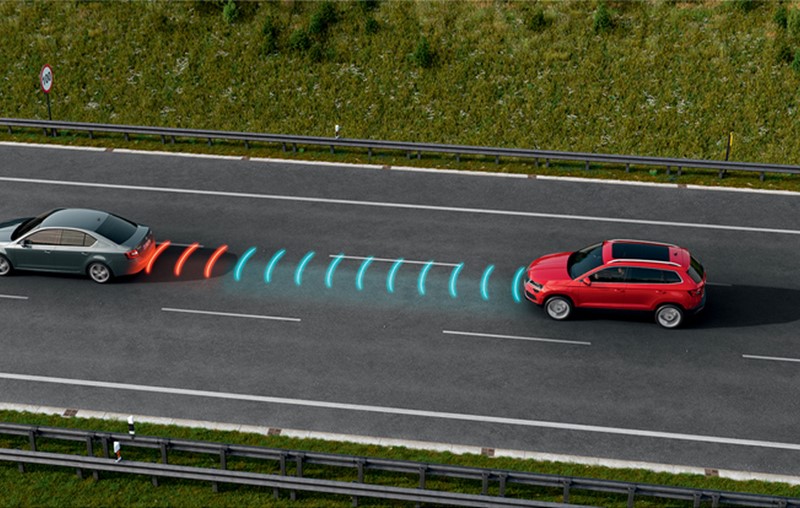 COMFORT ASSISTS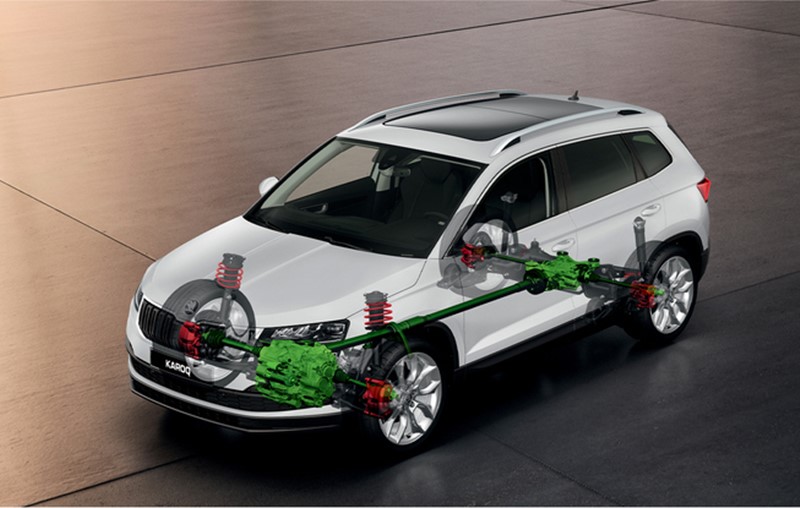 OFF-ROAD FEATURES
Talk to a SKODA specialist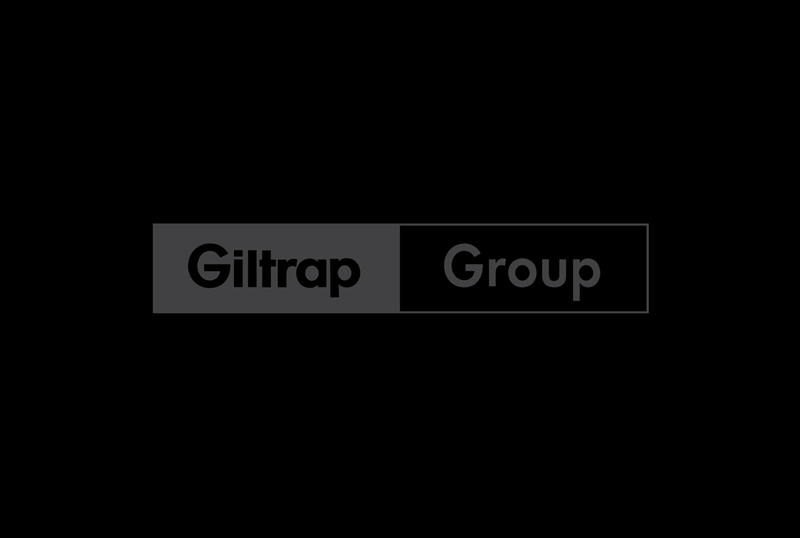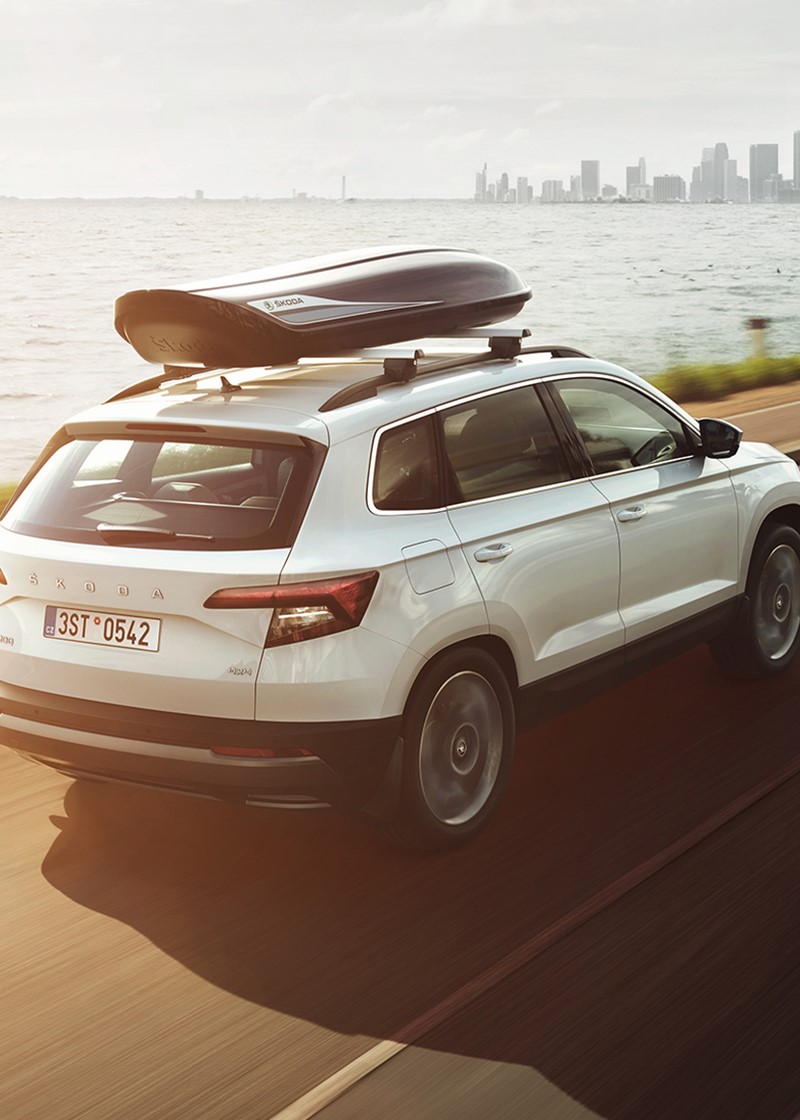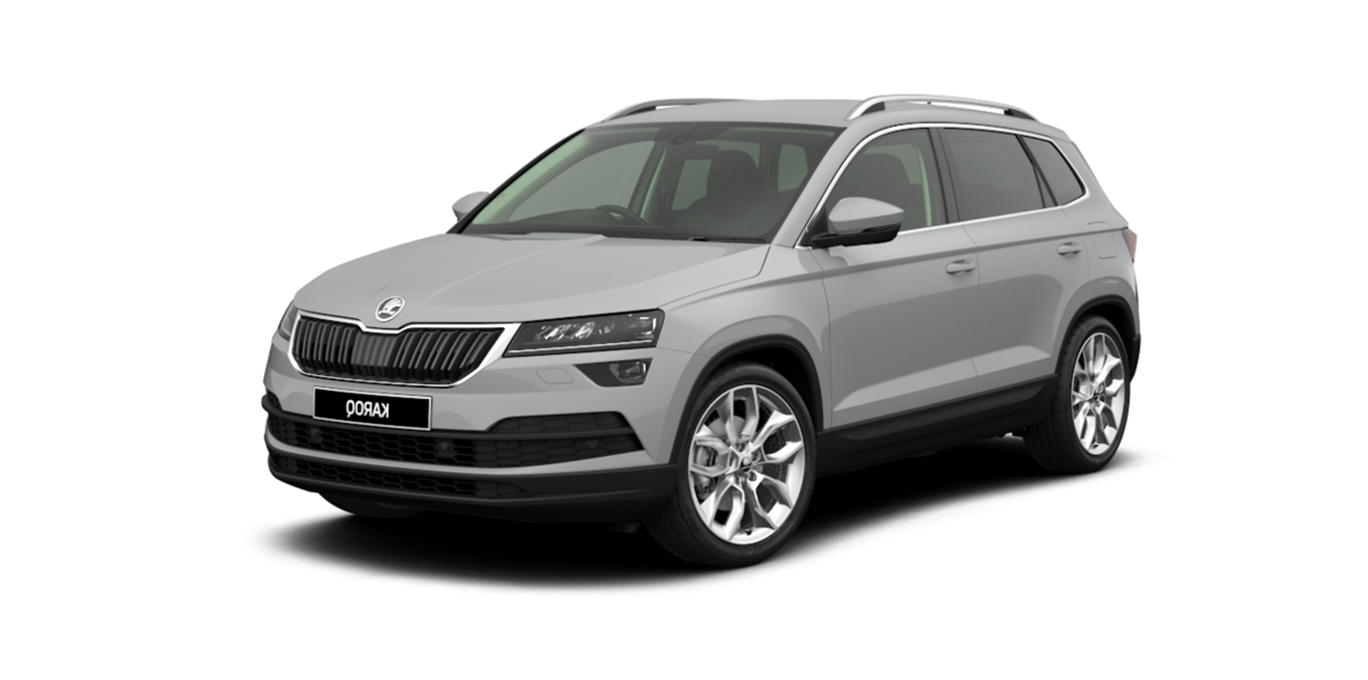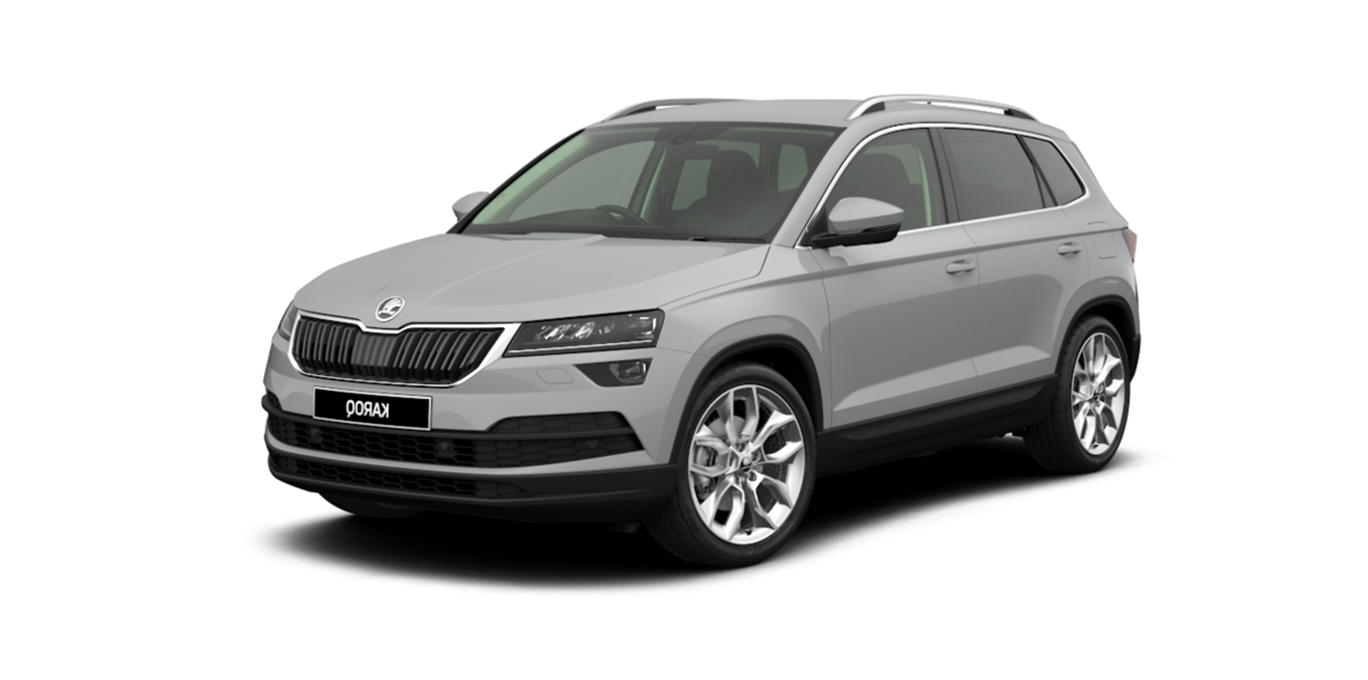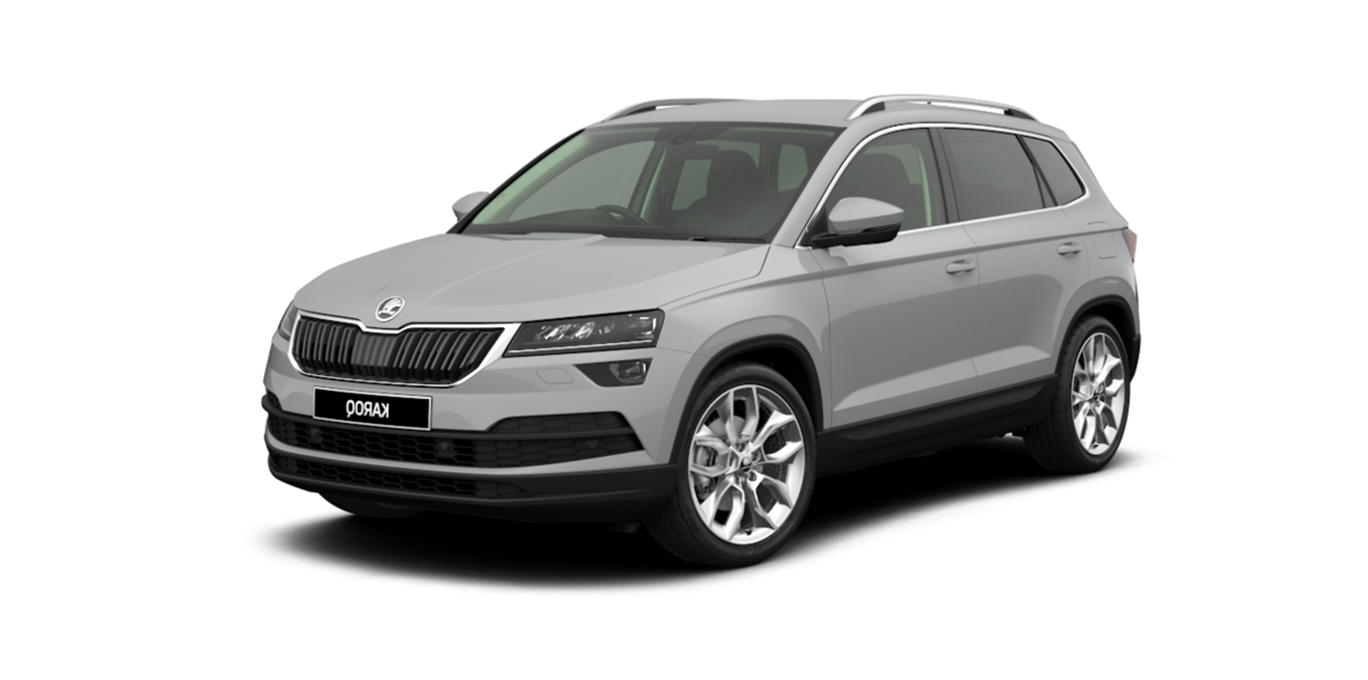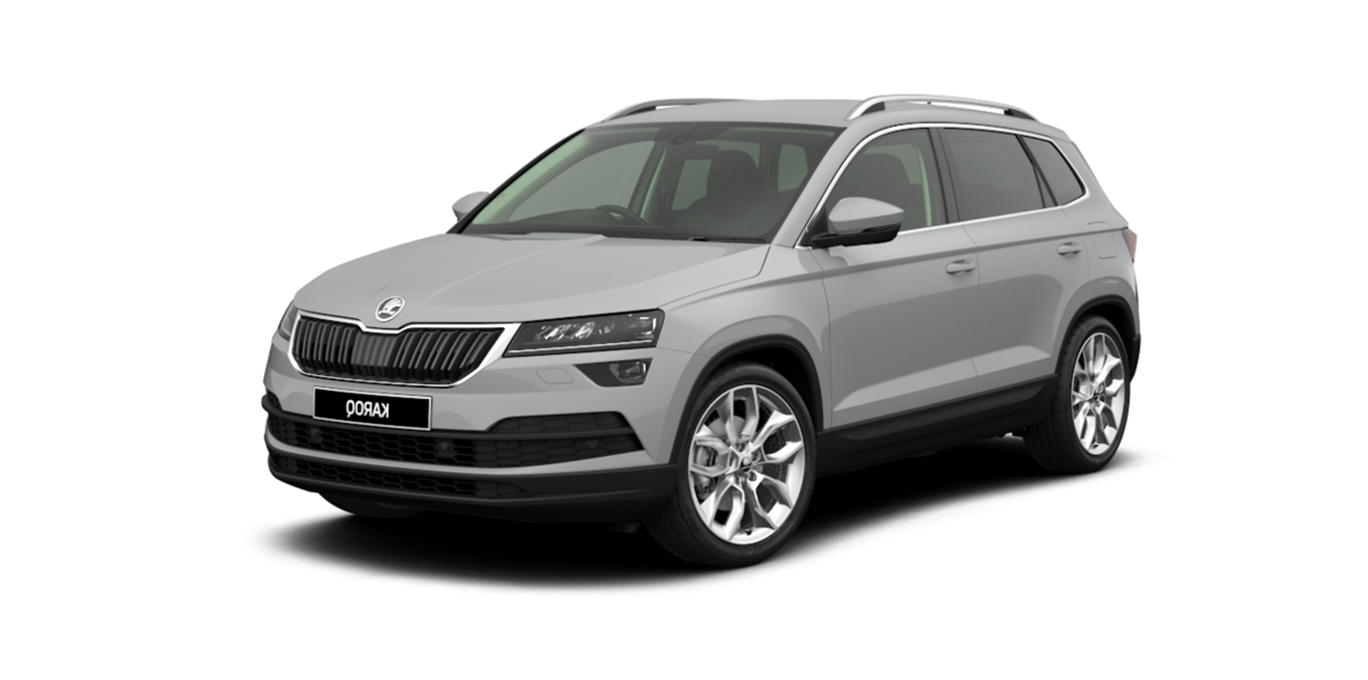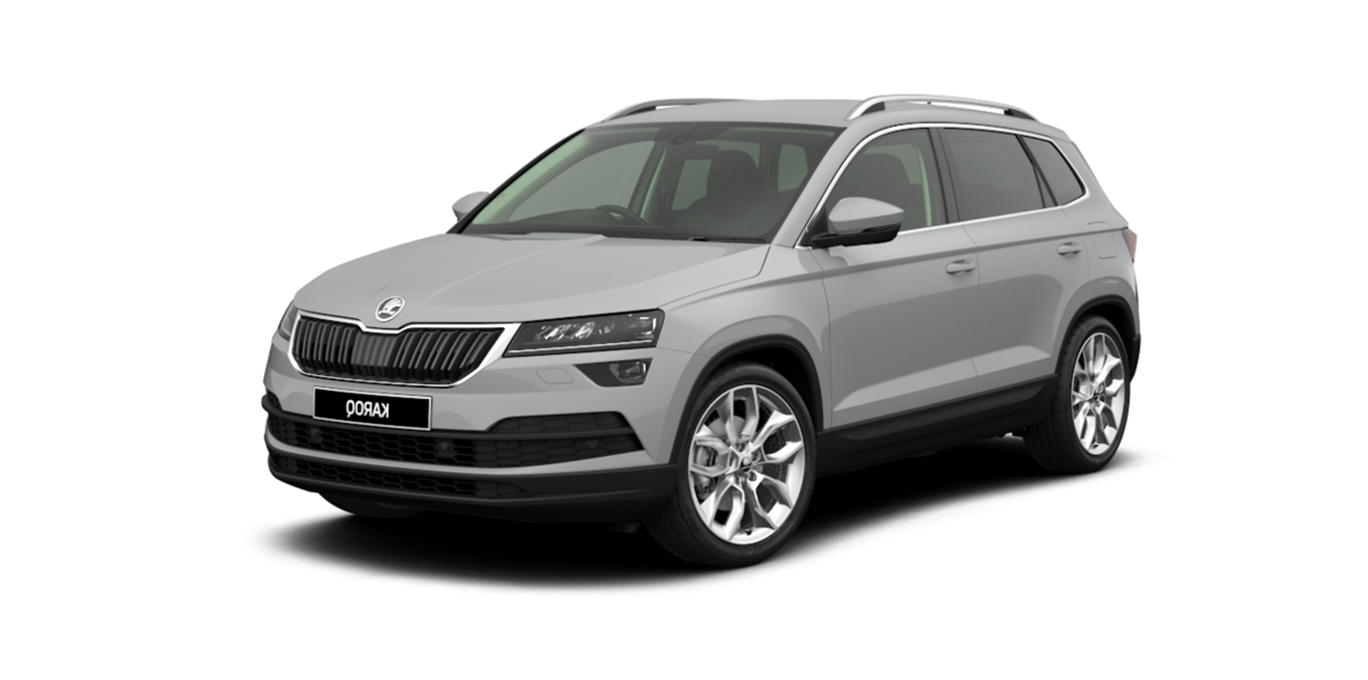 Price
Maximum Retail Price

$54,990
TECHNICAL DATA
Fuel consumption L/100km (Combined)

7.6*
CO2 emissions g/km (Combined)

171*
Power Output – kW/rpm

140/4200-6000
Torque – Nm/rpm

320/1500-4100
Drive train

Four Wheel Drive
Acceleration 0-100 km/h (sec)

7
Braked Trailer mass @ 12% (kg)

1900kg
Warranty and Service
5 years mechanical warranty or up to 150,000km

Yes
Service Intervals every 1 year or 15,000km

Yes
ŠKODA Scheduled Service Plan 3 Years or up to 45,000km

$1,200
ŠKODA Scheduled Service Plan 5 Years or up to 75,000km

$1,900
Safety & Assistance
Euro NCAP Safety Rating

5 Star across the Karoq Range
Driver and Passenger Front Airbags, Driver knee airbag, Curtain & Front side airbags

Yes
'KESSY' keyless central door locking, w/ engine start/stop

Yes
Electrically opening/closing tailgate

Yes
Virtual Pedal – automatic gesture opening of tailgate

Yes
Personalisation with 3 keys and driving mode selection memory

Yes
Adaptive cruise control including Front Assistant emergency braking

Yes
Side assist – Radar scanners detect traffic in adjoining lanes

Yes
Rear Traffic Alert – Emergency braking when reversing

Yes
Lane Assist – Lane keeping warning system

Yes
Driving Mode Select incl. ECO function

Yes
Pack
Sportline Plus Pack - Heated rear seat, Rough Road Pack, Navigation Columbus, Digital Instrument Panel, Dynamic Chassis Control, Wireless Media command.

$3,000
Exterior Specifications
LED Headlights with Corner functioning fog lights

Yes
Rain & Light Sensor, Automatic headlights lights and wipers

Yes
"SUNSET" tint for side & rear windows from B pillar back

Yes
Electrically folding & heated exterior mirrors

Yes
Gloss black roof rails, wing mirrors and front grill surround

Yes
Sports front and rear bumpers, rear diffuser

Yes
Front & Rear parking sensors

Yes
Sliding Panoramic Sunroof

$2,500
Factory fit running boards

$2,500
Interior Specification
Sports flat bottom steering wheel with 'Tiptronic' DSG gear paddles

Yes
Sports pedals in aluminium design

Yes
'CLIMATRONIC' Automatic Dual Zone air conditioning

Yes
Scuff plates in door sills

Yes
Partition Net Screen to separate luggage and passenger compartments

Yes
Cargo elements in the boot

Yes
Overhead sunglasses storage compartment

Yes
Upholstery
Sportline fabric with Thermoflux and silver stitching

Yes
Sports seats in front with integrated headrests and manual adjustments

Yes
Multimedia
Navigation 'AMUNDSEN' Infotainment System, Smartlink+ incl. Android Auto and Apple Carplay

Yes
Digital Instrument Panel

$1,000
Price
Maximum Retail Price

$34,990
TECHNICAL DATA
Fuel consumption L/100km (Combined)

5.8
CO2 emissions g/km (Combined)

131
Power Output – kW/rpm

85 @ 5000-500
Torque – Nm/rpm

200 @2000 - 3500
Drive train

Two Wheel Drive
Transmission

6 Speed Manual
Acceleration 0-100 km/h (sec)

10.6
Braked Trailer mass @ 12% (kg)

1200
Vertical Ball Weight (kg)

90
Warranty and Service
5 years mechanical warranty or up to 150,000km

Yes
Service Intervals every 1 year or 15,000km

Yes
ŠKODA Scheduled Service Plan 3 Years or up to 45,000km

$1,200
ŠKODA Scheduled Service Plan 5 Years or up to 75,000km

$1,900
Safety & Assistance
Euro NCAP Safety Rating

5 Star
Driver and Passenger Front Airbags, Driver knee airbag, Curtain & Front side airbags

Yes
'KESSY' keyless central door locking, w/ engine start/stop

$1,000
Electrically opening/closing tailgate

$1,000
Virtual Pedal – automatic gesture opening of tailgate

$1,500
Personalisation with 3 keys and driving mode selection memory

$120
"FRONT ASSIST" emergency brake system incl. pedestrian protection

Yes
Cruise control system + "SPEEDLIMITER"

Yes
Adaptive cruise control including Front Assistant emergency braking

$950
Side assist – Radar scanners detect traffic in adjoining lanes

Yes
Rear Traffic Alert – Emergency braking when reversing

Yes
Lane Assist – Lane keeping warning system

Yes
Exterior Specifications
Halogen Headlights with fog lights

Yes
LED Headlights with Corner functioning fog lights

No
Rain & Light Sensor, Automatic headlights lights and wipers

Yes
"SUNSET" tint for side & rear windows from B pillar back

No
Folding with electrically adjustable and heated exterior mirrors

Yes
Electrically folding exterior mirrors

No
Factory fit running boards

$2,500
Front & Rear parking sensors

Yes
Chrome detailing around windows with Silver Rood rails

No
Sliding Panoramic Sunroof

$2,500
Interior Specification
Trend Pack- VARIOFLEX Seats, Leather Upholstery CLIMATRONIC Dual Zone air conditioning

$3,500
Heated round steering wheel

$450
CLIMATIC' Manual Air conditioning

Yes
'CLIMATRONIC' Automatic Dual Zone air conditioning

Trend Pack or $1550
VARIOFLEX' folding & removeable rear seat row

Trend Pack or $2350
Family Pack- Child safety lock, double sided boot mat, rubbish bin in door

$335
Partition Net Screen to separate luggage and passenger compartments

$435
Upholstery
Ambition cloth interior (Black)

Yes
Full Leather interior (Black or Beige)

Trend Pack or $3000
Multimedia
Radio 'BOLERO' Infotainment System w/ Smartlink + incl. Android Auto and Apple Carplay

Yes
Navigation 'AMUNDSEN' Infotainment System, Smartlink+ incl. Android Auto and Apple Carplay

$1,500
MAXI DOT' - Multi-Function dash display

Yes
Colour 'MAXI DOT' - Multi-function colour dash display

$350
Digital Instrument Panel

$1,250
Alloy Wheels
18" 'MYTIKAS' Alloys

$850
18" 'BRAGA' Alloys

$1,000
Price
Maximum Retail Price

$40,990
TECHNICAL DATA
Fuel consumption L/100km (Combined)

6.3
CO2 emissions g/km (Combined)

146
Power Output – kW/rpm

110 @ 5000 - 6000
Torque – Nm/rpm

250 @ 1500 - 4000
Drive train

Two Wheel Drive
Transmission

8 Speed Auto
Acceleration 0-100 km/h (sec)

8.8
Braked Trailer mass @ 12% (kg)

1500
Vertical Ball Weight (kg)

90
Warranty and Service
5 years mechanical warranty or up to 150,000km

Yes
Service Intervals every 1 year or 15,000km

Yes
ŠKODA Scheduled Service Plan 3 Years or up to 45,000km

$1,200
ŠKODA Scheduled Service Plan 5 Years or up to 75,000km

$1,900
Safety & Assistance
Euro NCAP Safety Rating

5 Star
Driver and Passenger Front Airbags, Driver knee airbag, Curtain & Front side airbags

Yes
'KESSY' keyless central door locking, w/ engine start/stop

Yes
Electrically opening/closing tailgate

$1,000
Virtual Pedal – automatic gesture opening of tailgate

$1,500
Personalisation with 3 keys and driving mode selection memory

$120
"FRONT ASSIST" emergency brake system incl. pedestrian protection

Yes
Cruise control system + "SPEEDLIMITER"

Yes
Adaptive cruise control including Front Assistant emergency braking

$950
Side assist – Radar scanners detect traffic in adjoining lanes

Yes
Rear Traffic Alert – Emergency braking when reversing

Yes
Lane Assist – Lane keeping warning system

Yes
Exterior Specifications
Halogen Headlights with fog lights

No
LED Headlights with Corner functioning fog lights

Yes
Rain & Light Sensor, Automatic headlights lights and wipers

Yes
"SUNSET" tint for side & rear windows from B pillar back

Yes
Folding with electrically adjustable and heated exterior mirrors

Yes
Electrically folding exterior mirrors

Yes
Factory fit running boards

$2,500
Front & Rear parking sensors

Yes
Chrome detailing around windows with Silver Rood rails

Yes
Sliding Panoramic Sunroof

$2,500
Interior Specification
Trend Pack- VARIOFLEX Seats, Leather Upholstery CLIMATRONIC Dual Zone air conditioning

$3,500
Heated round steering wheel

$450
CLIMATIC' Manual Air conditioning

yes
'CLIMATRONIC' Automatic Dual Zone air conditioning

Trend Pack or $1550
VARIOFLEX' folding & removeable rear seat row

Trend Pack or $2350
Family Pack- Child safety lock, double sided boot mat, rubbish bin in door

$335
Partition Net Screen to separate luggage and passenger compartments

$435
Upholstery
Ambition cloth interior (Black)

Yes
Full Leather interior (Black or Beige)

Trend Pack or 43000
Multimedia
Radio 'BOLERO' Infotainment System w/ Smartlink + incl. Android Auto and Apple Carplay

Yes
Navigation 'AMUNDSEN' Infotainment System, Smartlink+ incl. Android Auto and Apple Carplay

$1,500
MAXI DOT' - Multi-Function dash display

No
Colour 'MAXI DOT' - Multi-function colour dash display

yes
Digital Instrument Panel

$1,000
Price
Maximum Retail Price

$44,990
TECHNICAL DATA
Fuel consumption L/100km (Combined)

6.3
CO2 emissions g/km (Combined)

146
Power Output – kW/rpm

110 @ 5000 - 6000
Torque – Nm/rpm

250 @ 1500 - 4000
Drive train

Two Wheel Drive
Transmission

8 Speed Auto
Acceleration 0-100 km/h (sec)

8.8
Braked Trailer mass @ 12% (kg)

1500
Vertical Ball Weight (kg)

90
Warranty and Service
5 years mechanical warranty or up to 150,000km

Yes
Service Intervals every 1 year or 15,000km

Yes
ŠKODA Scheduled Service Plan 3 Years or up to 45,000km

$1,200
ŠKODA Scheduled Service Plan 5 Years or up to 75,000km

$1,900
Safety & Assistance
Euro NCAP Safety Rating

5 Star across the Karoq Range
Driver and Passenger Front Airbags, Driver knee airbag, Curtain & Front side airbags

Yes
'KESSY' keyless central door locking, w/ engine start/stop

Yes
Electrically opening/closing tailgate

Yes
Virtual Pedal – automatic gesture opening of tailgate

Yes
Personalisation with 3 keys and driving mode selection memory

Yes
"FRONT ASSIST" emergency brake system incl. pedestrian protection

Yes
Cruise control system + "SPEEDLIMITER"

No
Adaptive cruise control including Front Assistant emergency braking

Yes
Side assist – Radar scanners detect traffic in adjoining lanes

Yes
Rear Traffic Alert – Emergency braking when reversing

Yes
Lane Assist – Lane keeping warning system

Yes
Exterior Specifications
Halogen Headlights with fog lights

Yes
LED Headlights with Corner functioning fog lights

Yes
Rain & Light Sensor, Automatic headlights lights and wipers

Yes
"SUNSET" tint for side & rear windows from B pillar back

Yes
Electrically folding & heated exterior mirrors

Yes
Factory fit running boards

$2,500
Front & Rear parking sensors

Yes
Chrome detailing around windows with Silver Rood rails

Yes
Sliding Panoramic Sunroof

$2,500
Interior Specification
Plus Pack- VARIOFLEX Seats, Leather Upholstery, Heated Seats Sport Steering wheel with DSG Paddles + Alloy Steel pedals

$3,500
Front heated seats

Plus Pack or $575
Heated round steering wheel

$450
'CLIMATRONIC' Automatic Dual Zone air conditioning

Yes
VARIOFLEX' folding & removeable rear seat row

Plus Pack or $2350
Family Pack- Child safety lock, double sided boot mat, rubbish bin in door

$335
Scuff plates in door sills

Yes
Partition Net Screen to separate luggage and passenger compartments

Yes
Cargo elements in the boot

Yes
Overhead sunglasses storage compartment

Yes
Upholstery
Style cloth interior w/ electrically adjustable driver seat + memory function (black or beige)

Yes
Full Leather interior (Black or Beige)

Plus Pack OR $3000
Multimedia
Navigation 'AMUNDSEN' Infotainment System, Smartlink+ incl. Android Auto and Apple Carplay

Yes
Colour 'MAXI DOT' - Multi-function colour dash display

Yes
Digital Instrument Panel

$1,000
Price
Maximum Retail Price

$50,990
TECHNICAL DATA
Fuel consumption L/100km (Combined)

6.1
CO2 emissions g/km (Combined)

159
Power Output – kW/rpm

110 @ 3500 - 4000
Torque – Nm/rpm

340 @ 1750 - 3000
Drive train

Four Wheel Drive
Acceleration 0-100 km/h (sec)

8.8
Braked Trailer mass @ 12% (kg)

2000
Vertical Ball Weight (kg)

90
Warranty and Service
5 years mechanical warranty or up to 150,000km

Yes
Service Intervals every 1 year or 15,000km

Yes
ŠKODA Scheduled Service Plan 3 Years or up to 45,000km

$1,200
ŠKODA Scheduled Service Plan 5 Years or up to 75,000km

$1,900
Safety & Assistance
Euro NCAP Safety Rating

5 Star across the Karoq Range
Driver and Passenger Front Airbags, Driver knee airbag, Curtain & Front side airbags

Yes
'KESSY' keyless central door locking, w/ engine start/stop

Yes
Electrically opening/closing tailgate

Yes
Virtual Pedal – automatic gesture opening of tailgate

Yes
Personalisation with 3 keys and driving mode selection memory

Yes
"FRONT ASSIST" emergency brake system incl. pedestrian protection

Yes
Cruise control system + "SPEEDLIMITER"

No
Adaptive cruise control including Front Assistant emergency braking

Yes
Side assist – Radar scanners detect traffic in adjoining lanes

Yes
Rear Traffic Alert – Emergency braking when reversing

Yes
Lane Assist – Lane keeping warning system

Yes
Exterior Specifications
Halogen Headlights with fog lights

Yes
LED Headlights with Corner functioning fog lights

Yes
Rain & Light Sensor, Automatic headlights lights and wipers

Yes
"SUNSET" tint for side & rear windows from B pillar back

Yes
Electrically folding & heated exterior mirrors

Yes
Factory fit running boards

$2,500
Front & Rear parking sensors

Yes
Chrome detailing around windows with Silver Rood rails

Yes
Sliding Panoramic Sunroof

$2,500
Interior Specification
Plus Pack- VARIOFLEX Seats, Leather Upholstery, Heated Seats Sport Steering wheel with DSG Paddles + Alloy Steel pedals

$3,500
Front heated seats

Plus Pack or $575
Heated round steering wheel

$450
'CLIMATRONIC' Automatic Dual Zone air conditioning

Yes
VARIOFLEX' folding & removeable rear seat row

Plus or $2,350
Family Pack- Child safety lock, double sided boot mat, rubbish bin in door

$335
Scuff plates in door sills

Yes
Partition Net Screen to separate luggage and passenger compartments

Yes
Cargo elements in the boot

Yes
Overhead sunglasses storage compartment

Yes
Upholstery
Style cloth interior w/ electrically adjustable driver seat + memory function (black or beige)

Yes
Full Leather interior (Black or Beige)

Plus Pack OR $3000
Multimedia
Navigation 'AMUNDSEN' Infotainment System, Smartlink+ incl. Android Auto and Apple Carplay

Yes
Colour 'MAXI DOT' - Multi-function colour dash display

Yes
Digital Instrument Panel

$1,000